This meme was started by Sheila at
Book Journey
. The kid's version was started by J
en at
Teach Mentor Text
and Kellee at Unleashing Readers
.
Well, I had very good intentions of coming back last week and posting again, but little did I know on Monday how crazy my week was going to become. I ended up having four meetings, with two being on the same day. So it was mainly just a survival week for me. I'm scheduling time this week to blog again!
With having all those meetings I really didn't get to read a lot. I've got three picture books and a link to one that I have already reviewed from Penguin Young Readers. I've also got a chapter book from my upcoming Scholastic Book Fair that I read. I also will be sharing what I'm reading now/next.
First up, the chapter book from Scholastic. It is TombQuest: Book of the Dead by Michael Northrop.
Click here for a summary on Goodreads
. I read this book because it is going to be in my upcoming Scholastic Book Fair and I thought it sounded interesting. This is the first book in a series. Looking on Goodreads, this is not going to be like other Scholastic series, all the books will be written by Michael Northrop. I enjoyed this book because I'm always fascinated by the Egyptian culture. I think this is one that the kids will really enjoy because it has a lot of action, adventure, and a bit of grossness.
Now onto the picture books. Ever since I listened to Matthew Winner's Let's Get Busy Podcast episode 131 with Greg Pizzoli I've been wanting to read his newest book Tricky Vic The Impossibly True Story of the Man Who Sold the Eiffel Tower. Click here for a summary on Goodreads. I first read through this book from cover to cover because I have been waiting so long to read it. Then I had to go back through and reread it to savor the experience! I am in awe of Greg Pizzoli's talent. He is such a versatile author/illustrator because this book is so different from the others books that he has published. The idea to use a fingerprint as the main characters face is just genius! It really reinforces the knowledge that most didn't know what Tricky Vic looked like. The variety of art work in this book just makes it even better. I highly recommend you pick this one up if you haven't and make sure you peek under the dust jacket to look at the front and back cover.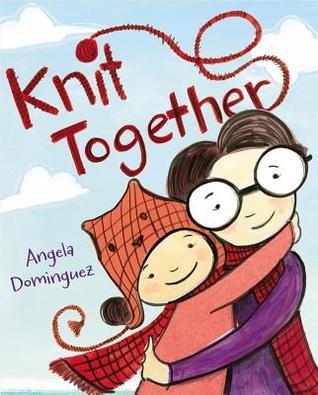 The next two books have a yarn theme in them. The book is Knit Together by Angela Dominguez. Click here for a summary on Goodreads. This is a sweet story about a daughter who loves to draw and loves to watch her mom knit. The daughter wants to try knitting, but finds that it is not as easy as it looks. I loved the way the author had them end up working on a project together. The author also did the illustrations for this book. Every time I looked at the illustrations, I could feel the love that Angela has for her mother coming through. It was neat to read on the back flap how she and her mother worked together on the project that the two characters did. I enjoyed this one and gave my mom a hug the next time I saw her.
The second yarn themed book is Edmund Unravels by Andrew Kolb. Click here for a summary on Goodreads. Loved this story so much! It is a great story about being able to get out and explore the world, but still remembering where you came from. I even got a little teary eyed while reading this book, but I know it is because of my good friend's son who is graduating from high school this year. I think this book might have to be part of his graduation gift this year.
Another book that I got from Penguin Young Readers that I had already reviewed is Peanut Butter & Cupcake by Terry Border. Click here for a summary on Goodreads. Click here to see my review from August 2014.
I will be back to post this week. I've already scheduled my time to write another post on my Google Calendar with two reminders!
I've got three books on my radar for this week, Dory Fantasmagory by Abby Hanlon, Mr. Pants: Slacks, Camera, Action! by Soctt McCormick, and The Iron Trial by Holly Black and Cassandra Clare.
Happy Reading!!
Stacey (@libraryjo92)