This meme was started by Sheila at
Book Journey
. The kid's version was started by J
en at
Teach Mentor Text
and Kellee at Unleashing Readers
.
Since I skipped last week I have a lot of books to talk about this week! I've got some chapter books some picture books and a poetry book. I think I'll start with the picture books this week.
I had to order some other things online, so of course I had to order books too. I got three great new picture books that I love them can't wait to share with my students. The first one is This Book Just Ate My Dog by Richard Byrne. Click here for a summary on Goodreads. I just love this book! It made me laugh out loud. I can't wait to share with my students I know they're going to enjoy it and laugh as much as I do. I was even sharing this one with my mother, who was first grade teacher for 35 years and even she was laughing out loud. The illustrations add so much to the book. It was a very creative way to use the features of the physical book.
The second picture book was I Don't Want to be a Frog by Dev Petty and illustrated by Mike Boldt. Click here for summary on Goodreads. This is also another fun read. I was first introduced to this book on the Let's Get Busy podcast featuring Dev Petty. As soon as I heard her talking about it, I knew I had to get a copy of this book for my library. Everybody has moments when they don't want to be themselves and we sometimes have to go through thinking out loud to realize it's not really bad to be who we are. And I can't say enough about Mike Boldt's illustrations! The expression on the frogs faces and the huge oversize glasses on the dad frog just make the book for me!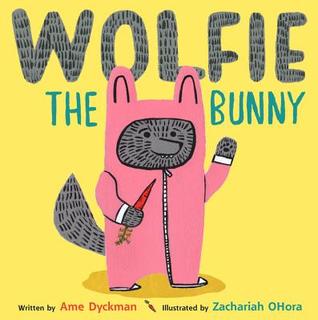 In the last picture but this week is Wolfie the Bunny by Ame Dyckman and illustrated by Zachariah OHora. Click here for summary on Goodreads. I have been waiting, and waiting for this book. I knew it was one that I had to have for myself as well as buying a copy for my library. I mean look at the cover who can resist the illustration on the cob! The story is great and I just fell in love with Dot, she's got a great voice. This was a great pairing of story and illustration because each complement the other so well.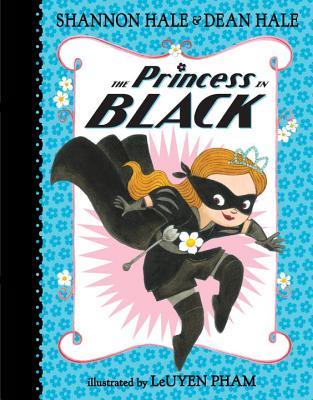 Onto the chapter books, the first chapter book is another one that I heard about on the Let's Get Busy podcast, The Princess in Black by Shannon Hale and Dean Hale. Click here for a summary on Goodreads. I really enjoyed the story it's a great early chapter book and I know some of my younger readers who still aren't ready for text heavy chapter books will enjoy it. Just the format of it reminded me a lot of the Mercy Watson series. It's going to be one that I definitely will be sharing with my second and third graders and some high first-graders as well.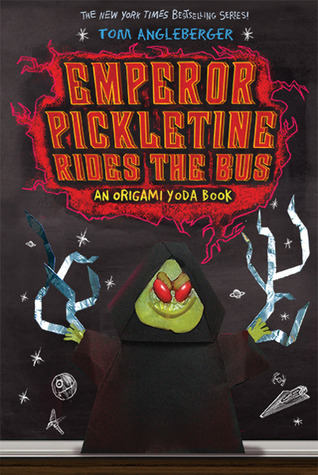 Second chapter books is the last in The Origami Yoda series, Emperor Pickletine Rides the Bus by Tom Angleberger. Click here for a summary on Goodreads. I've been with the series since the first book, and I am sad to see end. It's been a great ride. Though it wasn't my favorite in the series, it was a satisfying conclusion. I can't wait to start interview thing the series to my second and third graders who haven't had exposure to the series yet. It's always great to see them get excited. And they don't have to wait, like I did, for the others to come out.
The poetry book that I read was from Penguin Young Readers. It is Poem Depot Aisles of Smiles by Douglas Florian. Click here for a summary on Goodreads. I am such a fan of Douglas Florian's poetry. He makes it very fine and accessible for even the youngest students. And his poems are always so much fun I can't get through a book of his without laughing multiple times. I love how he shows the students that poetry doesn't always have to be so serious it can be fun. With chapter titles like Willy-Nilly Silly and Funny Bones and Belly Laughs you know you're in for some fun poetry.
Hope everybody has had a great week reading, what of been some of your favorites?