This meme was started by Sheila at
Book Journey
. The kid's version was started by J
en at
Teach Mentor Text
and Kellee and Ricki at Unleashing Readers
.
I'm so excited because this is the third week in a row that I've been able to post, I've been able to read a lot and I stepped outside my comfort zone this week and did something that I wouldn't normally do. I'm not willing to share yet what I did. But if we ask our kids to step out of their comfort zones to push their learning, shouldn't we be willing to do the same thing?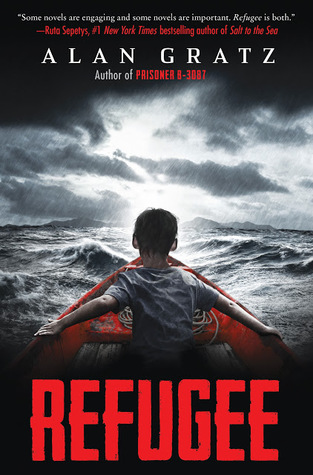 The first book that I read was Refugee by Alan Gratz. Click here for a summary on Goodreads. Wow, just wow! This book was INCREDIBLE!! This book has been talked about on Twitter for a while. I knew that I would need to get my hands on a copy. When I went to the Scholastic Reading Summit I was lucky enough to get a copy from Mr. Schu! This book is such a powerful read, one that everyone needs to read. It is so timely given everything that is happening in our world. Alan Gratz has created characters that grab you by the heart and don't let go. This is when book that I will never forget. If you haven't gotten a copy, you need to get one now! Click here to can hear Alan Gratz read an excerpt the book on Scholastic's Soundcloud. You can also hear many other authors and educators discussing a variety of topics.
Sorry for the short post today. I'll post later on this week about Wishtree by Katherine Applegate, Prince and Pirate by Charlotte Gunnufson and The Book of Mistakes by Corinna Luyken.
Happy Reading!!
Stacey (@libraryjo92)