This meme was started by Sheila at
Book Journey
. The kid's version was started by J
en at
Teach Mentor Text
and Kellee and Ricki at Unleashing Readers
.
I've got three books that I've been reading this past week, a picture book, a middle grade book, and a professional book! I've been tweeting more this week as well. Attending the Scholastic Reading Summit had a lot to do with that. But it felt great to be connected with my PLN again.
The picture book that I read was Here Comes Teacher Cat by Deborah Underwood and illustrations by Claudia Rueda. Click here for a summary on Goodreads. This is another great addition to her cat series. I have loved the cat, but I think that this one is my favorite! These books have just the right amount of text to not be overwhelming to the beginning readers. With having a small amount of text, there can be lots of questions that parents and teachers can ask using the illustrations as a spring board for kids to form their answers. Speaking of the illustrations, Claudia Rueda has done another wonderful job bring cat's adventures to life. I was provided this book by Penguin Young Readers. This book will be published on August 8, 2017. I think I will have to buy another copy of this book for my library because I want to keep a copy for myself. My hope one day is to meet Deborah and have her sign my book!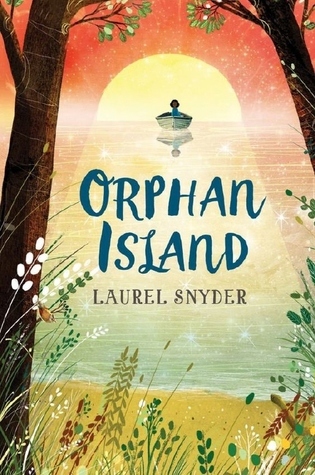 The middle grade book that I read was Orphan Island by Laurel Snyder. Click here for a summary on Goodreads. My first reaction when started reading this book was, how much time do I have? I That thought was because I knew that I was going to need to read until I finished this book! The more I read, the more I didn't want this book to end. I enjoyed the journey that Laurel took me on. I felt like I was a fly living on Orphan Island. According to Mr. Shu, there are lots adults who get to the end of the book and are so upset at the way it ends. On the other hands lots of kids really like the ending. I found myself in agreeing with the kids. Once I reached the end, I was sad that it was over but I felt it was the perfect ending for the book. This is a must read, if you haven't already!
The professional book that I read was Kids Deserve It!: Pushing Boundaries and Challenging Conventional Thinking by Todd Nesloney and Adam Welcome. Click here for a summary on Goodreads. I had the pleasure of meeting Todd Nesloney in February 2017 in Florida. We are both on advisory boards for Scholastic Book Fairs. I learned a lot from talking and listen to him share ideas and information during our meetings. I knew that he had co-wrote a book, but it took me this long to get a hold of it. I'm glad I waited until the summer to read it, so that I can really think about the ideas that he and Adam Welcome wrote about. I read this book in three days. It was a very easy read, but it made me think quite a bit as I was reading. As I enter year 22 in my teaching career, this book reinforced that I need to continue to push myself to grow for my students. One of the most important ideas that I'll take from this book is to remember to celebrate even the smallest successes. Being in the library I see every student in the school. Many times it is one of the few places some of my school's neediest/behavior challenged kids are successful. I try to call home to give them a positive phone call because that is not the normal phone call for them. I do really well until about the middle of the year. I'm making it my goal to do better this coming year. I enjoyed this book so much, I even picked up a copy for my principal.
What have you been reading?
Happy Reading!!
Stacey (@libraryjo92)