This meme was started by Sheila at
Book Journey
. The kid's version was started by J
en at
Teach Mentor Text
and Kellee at Unleashing Readers
. It feels like forever since I have posted about what I've been reading. It also feels like forever since I've done a lot of reading. I was planning on catching up during Spring Break, but life made me slow down and take some time with my family. I had to go back home to PA for a funeral. I won't have wanted to be any other place than with family during our time to say good bye.
I've been in the madness that is my March BOOK Madness. See the previous post. I'm now done to the final two, Lady Pancake & Sir French Toast by Josh Funk vs. Please Mr. Panda by Steve Anthony. Can't wait to see who will win!! Stay tuned!
I started back to work last Tuesday from Spring Break, but there was no easing back in. I was finishing all the prep work for my school visit from Marc Tyler Nobleman. He has written over 70 books, but his visit was focused on Boys of Steel: The Creators of Superman and Billy the Boy Wonder: The Secret Co-Creator of Batman. I'll be posting abut his visit later this week. A sneak peek: It was AWESOME!!!!
Now on to my reading for the past few weeks. I've read The Nest by Kenneth Oppel and illustrated Jon Klassen. Click here for a summary on Goodreads. Such an interesting book. I'm still trying to decide if I liked or if I didn't. I'm having a hard time deciding. On one hand the story was interesting enough to hold my interest and continue reading to fine out how it ended. On the other hand, the plot was a little out there, even for me. In a few months, a reread might be in order. I'm interested to see what others thought. There were not a lot of illustrations in this book, but Jon Klassen made them really creepy which fits to overall theme of this book.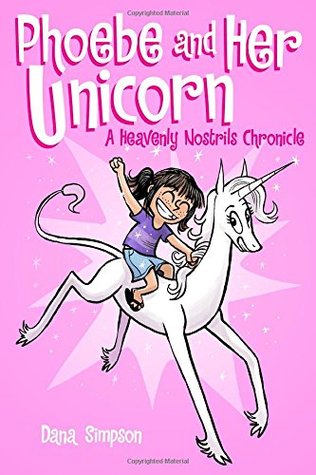 I read Phoebe and Her Unicorn by Dana Simpson. Click here for a summary on Goodreads. I mainly read this book because it is a Maryland Black-Eyed Susan nominated book for Graphic Novels. It has been widely popular with my students. In fact, I had to check it out from the public library because it was never on my shelf for long! I can see why my students like the book. I enjoyed the book and can't wait to share the second and third book with my students.
The last book that I managed to read in the past few weeks was Took by Mary Downing Hahn.
Click here for a summary on Goodreads
. I've always been a fan of Mary Downing Hahn. As I was growing up, I could always count on her for a scary read and this one did not disappoint! This is a Maryland Black-Eyed Susan nominated book for chapter books next school year. I know that many of my students will be lining up to read this book. Ghost stories are always so popular. I started this book the last day of my Spring Break and I had to finish it before I went to bed that night. Even though, I had to stay up past my bedtime. But the book was worth it.
I'll be posting this week about my March BOOK Madness and my visit from Marc Tyler Nobleman, so stay tuned!
Happy Reading!!
Stacey (@libraryjo92)