This meme was started by Sheila at
Book Journey
. The kid's version was started by J
en at
Teach Mentor Text
and Kellee and Ricki at Unleashing Readers
.
I've got a very short post this week because last week was SO busy. On Wednesday I had author and illustrator Henry Cole visit my school. Monday and Tuesday of course, I was prepping for his visit. I'm a Type-A personality, so I had to make sure everything was in place. It was a great visit and was still the talk of the school on Thursday. My assistant did three AMAZING bulletin board! I will be posting about his visit, showing those amazing bulletin boards, and showing some pictures from his presentation. Can't wait to share his visit with everyone!
I read two picture books this week. The first one was The Night Gardener by The Fan Brothers. Click here for a summary on Goodreads. I was so interested as I read the story to see what animal would appear next after a visit from the Night Gardener. The illustrations in this book took my breath away. This was another book that I had to go back and study the illustrations after I finished reading it. I know that I'm a little late to the party on this book, but I know I can't be alone. If you haven't read this book, don't delay in getting a copy of this book!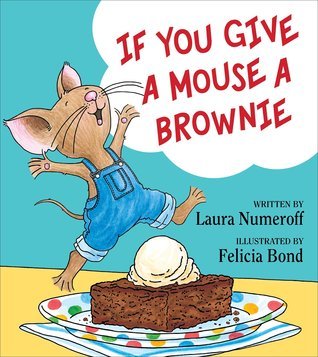 The second book that I read was
If You Give a Mouse a Brownie
by Laura Numeroff.
Click here for a summary on Goodreads
. I have loved these books since I read If You Give a Mouse a Cookie. I am so excited to have another one because I love using these to teach my students the relationship between author and illustrator. Numeroff and Felicia Bond are such a dynamic duo that I don't think children of any age will tire of these books. I know that they are so hard to keep them on my shelf! This one will not disappoint! Can't wait to share it with my students.
I'm still working on finishing
You Can Fly
by Carole Boston Weatherford. I'm hoping to have it finished tomorrow. I should have time to finish it!
Happy Reading!!
Stacey (@libraryjo92)