Thank you to Cathy Mere and Mandy Robek for hosting the Picture Book 10 for 10 (#PB10for10). I'm so excited to participate this year. I've seen people posting in years past, but I always forgot about it. But last year I set a reminder on my calendar for July so that I would remember!
Here's how you can participate:
Grab a Badge (just copy the URL address of the one above or take a screenshot)
Join the #pb10for10 Google Community
Choose Your Favorites: All you need to do is choose ten picture books you cannot live without for whatever reason. In the first days of this event, everyone shared their ten very favorite titles. This still works. You will notice, however, that many past participants choose some type of theme to determine their selections. We'll leave this up to you.
Narrow Your List to Ten: It isn't easy, is it? We've seen some crafty ways to get around that number.
Write Your August 10th Post: Write a post about the ten books you cannot live without. Share your post on August 10th and link it to the Picture Book 10 for 10 Community.
No Blog? No Problem: If you don't have a blog, this might be the perfect time to start one --- or there are a million digital ways to join (see post below). Of course, now with the Google Community it is quite easy to just post your favorites directly into the community without a blog. We will also be tweeting from the #pb10for10 hashtag.
Comment: On August 10th (and maybe for a week --- there are a lot of posts) take some time to read posts from other participants. Please comment on at least three.
There are so many great picture books out there it is hard to narrow it down to ten.
In fact, I had to make a list and then from that list narrow it down to ten. There is not a theme to my choices.
Adrift: An Odd Couple of Polar Bears by Jessica Olien
Click here for a summary on Goodreads. This book is a great story about friendship. I like how it shows that you might find a friend in the most unlikely person/animal. Karl and Hazel are totally opposites, but when they begin to drift off to sea together can they get along. I think that this one shows students that we can be friends with those who are different then ourselves.
The Case of the Stinky Stench by Josh Funk
Click here for a summary on Goodreads. I LOVED the first book, Lady Pancake and Sir French Toast. In fact my students loved it too. The book won our 2016 March BOOK Madness. This sequel doesn't disappoint! I love the whole mystery aspect to the book. I have been looking for a picture book that is a fun read to introduce the genre mystery to my little ones and this one is the perfect book.
North, South East West by Margaret Wise Brown
Click here for a summary on Goodreads. This book has a special place in my heart. First off I love Margaret Wise Brown books. Secondly I gave it to a friend's daughter for graduation. This is a sweet story about a little bird who is trying out all different places is in the world to see which is best. This is one that everyone needs to read! The illustrations are by Greg Pizzoli His simple illustrations really pairs well with the text. I love any illustrations done by Greg Pizzoli!
My Kite is Stuck! And Other Stories by Salina Yoon
Click here for a summary on Goodreads. Once again I loved the first one Book Duck, Duck, Porcupine! And Other Stories. Both are such a great introduction to graphic novels. Sometimes it is hard for our younger students to figure out how to read graphic novels. These books offer one pane picture that allow the readers to get the hang of reading speech bubbles. I'm thrilled to find out that the third book will be published on September 19th: That's My Book! And Other Stories. I've already pre-ordered this book!
Spunky Little Monkey by Bill Martin Jr.
Click here for a summary on Goodreads. This is a fun book that is very similar the Five Little Monkeys. I was lucky to receive an F&G of this book. So I read it with some of my Kindergarten classes and they LOVED it. In fact, they asked me to read it again. Once I got it on the shelf in my library, it was never there until the end of school. This will be one that never gets old, no matter how many times you read it! The illustrations by Brian Won are so bright and happy. They really highlight the and bring life to the text!
Click here for a summary on Goodreads. If you haven't read this book, you are missing something special! I know I still ask, at least once, whenever I'm on a long trip "Are we there yet" and I get groans as an answer. For me long trips seem to slow down time and that is exactly what happened to the little boy in the story. Time slows down enough that he starts going backwards. There is SO much to see in the illustrations that each time I read it, I find something new. Dan Santat is an incredible author and illustrator of picture books. His books are ones that I make sure I always purchase for my library!
They All Saw a Cat by Brendan Wenzel
Click here for a summary on Goodreads. I was blown away by this book when I read it. The text and the idea for this book is so simple but yet so complex. This is a great book to teach point of view and show how we all can see the same object/event differently. I think my two favorite illustrations of the cat is how the snake sees it and how the bee sees it. I can't wait to see what my students think of this book because it is one of our state book award nominee.
Penguin's Christmas Wish by Salina Yoon


Click here for a summary on Goodreads. It is no secret I am a HUGE Salina Yoon fan, especially of Penguin. In this story, Penguin is excited to celebrate Christmas with his family. But we all know, things don't always go according to plan. This is a great Christmas gift to show that that this holiday isn't all about stuff. There are a lot of Salina's characters who make an appearance in this book. If this is the last Penguin book, it is such a heart warming story to end on. But I keep hoping that it is not!
The Story of Fish and Snail by Deborah Freeman


Click here for a summary on Goodreads. This is such a sweet story of friendship and bravery! Last school year I read this book to all 22 of my classes (from Kindergarten to 5th Grade. I never got tired of reading this book at all! To me, that is a sign of a great book! I read it because things were changing a bit in the library and we all were going to be brave like Snail. The story itself is great, but Deborah Freeman's illustrations put this book over the top! Through her illustrations you can really feel all the emotions Fish and Snail are feeling!
Be a Friend by Salina Yoon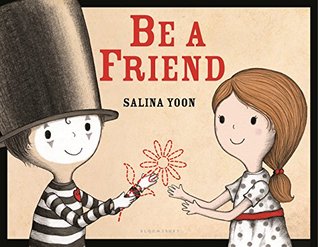 Click here for a summary on Goodreads. This book has so much heart! Dennis is a lonely little boy who wants a friend. He is a mime who the just wants to be seen by the other kids. We all have felt exactly like Dennis at one point in our lives. We just want someone to notice and understand us. The story is a great jumping off point for classroom discussions about friendship. This is such a sweet story and will always have a place in my heart!